About this guide
This guide provides information and activities that will help you make a video. There are tips and downloadable templates to step you through the process of making a video. If you are a more experienced video creator, this guide offers handy links to:
Free music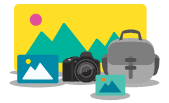 Images
Sound effects
and other content to put in your videos
Before moving through the content, watch the video (2:53) to get a quick overview of the creation and development process.