Planning your search
Knowing the exact topic you intend to search is important. The more specific the information you provide in the research question, the more specific your search of the literature will be.
For more information on developing a research question please see the Step 1: Developing the research question page of the Systematic and systematic-like review toolkit.
The first step is to Identify the main concepts of your research question. The concepts (or themes) need to be identified in order to ensure you search all the concepts.
When looking at your research question, consider "Which words would I Google?". These are often the main concepts of the search.

ACTIVITY
The following activity with an example topic will help you to think about what terms can be used for conducting a search. (*With screenreaders - use arrows and spacebar)
Use a search planner
The search planner is a tool which can help you develop a complex and comprehensive search.
Record the main concepts, then provide similar or related terms.
Apply search operators such as truncation (*), wildcard (?) and phrase searching (" ") where applicable.
Identify any concepts that could be split: e.g. "nurse attitudes".

Develop synonyms for each term: "nurse" and "attitude".
Join the split terms using proximity (N2 W3 NEAR/4 ADJ/2) - these will vary from one database to the next.
e.g. (nurse N2 (attitude OR belief))

Document any limiters applied according to the protocol/inclusion criteria e.g. Peer reviewed, certain study type, dates searched (1980 – current), languages, population (age, gender), human/animal
Identify any database specific subject headings for your concepts
Planning your search for the databases

This video demonstrates preliminary searching;
identifying concepts, synonyms, using the search planner,
and how to apply this to a search in an EBSCO database.
Video transcript
Identify additional keywords
Once you have identified your concepts, you will need to think of alternative ways in which your concepts may be described.
Adding further alternative search terms to your search will also help you go beyond the language you've used in your research question, to find literature by authors all over the world, regardless of how differently they describe the same topic. This will enable you to capture a broader set of results.
Look for synonyms, antonyms, alternate spellings (UK/US)
Identify keywords used in articles, databases, dictionaries, Google to find alternative ways to describe each concept.
Break down complex concepts into its parts (sub-concepts)

e.g. 'gender' includes

male
female
transgender
intersex
etc.
This is a more comprehensive and time efficient way of searching, although planning your search can initially take some time.

ACTIVITY
The following activity can help you to learn how to split your concepts for searching in databases. (*With screenreaders - use arrows and spacebar)
Perform an initial search of the literature
You don't know what's out there until you have a look. Preliminary searches help you to:
Check whether your topic has already been researched, is there already a current review of the literature?
Find out whether the topic is too broad, with a large set of results, or too narrow with too few results.
Suggest alternative vocabulary used to describe the same topic.
Harvest search terms from search methods in Systematic Reviews and Theses on similar topics.
Key Articles (also known as the Gold Set) are any article you find that would match the topic of your review. They can be found at this preliminary stage, but also will be found throughout the search process of the review. Citation searching all these key articles is part of the review search process.
Find studies (key articles) on your topic:

Identify references, citations and key authors from located articles to expand search.
Collect words used in title/abstract/subject headings of the article to add to your search
Citation Searching (snowball searching)

From each key article on your topic you can "snowball" your search
to find citing articles and references using Scopusand Web of Science
Identify subject headings (controlled vocabulary)
Subject headings are built into databases like MEDLINE, and all articles are organised according to those subject headings. If you search the subject headings for your topic, the database will retrieve nearly every article on the topic regardless of the various keywords other authors used in their title/abstract/articles.
Subject Headings - what are they?
A basic introduction to what subject headings are and why they're important

Subject Headings - How they REALLY work
An in depth video that shows how headings work so you can control them in your systematic search

In MEDLINE subject headings are called MeSH (Medical Subject Headings).
An article titled "Health education on diabetes for outpatients" might be found under these MeSH Headings:
"Diabetes Mellitus"
"Health education"
"Outpatient"
Subject headings vary from one database to another. MeSH in Medline is different to the subject headings in CINAHL, APA PsycINFO or SportDiscus.
Use page 3 of the search planner (pictured below) to collect subject headings for each of your concepts, in each of the databases you intend to search. be careful not to mix up your MeSH with your CINAHL Headings!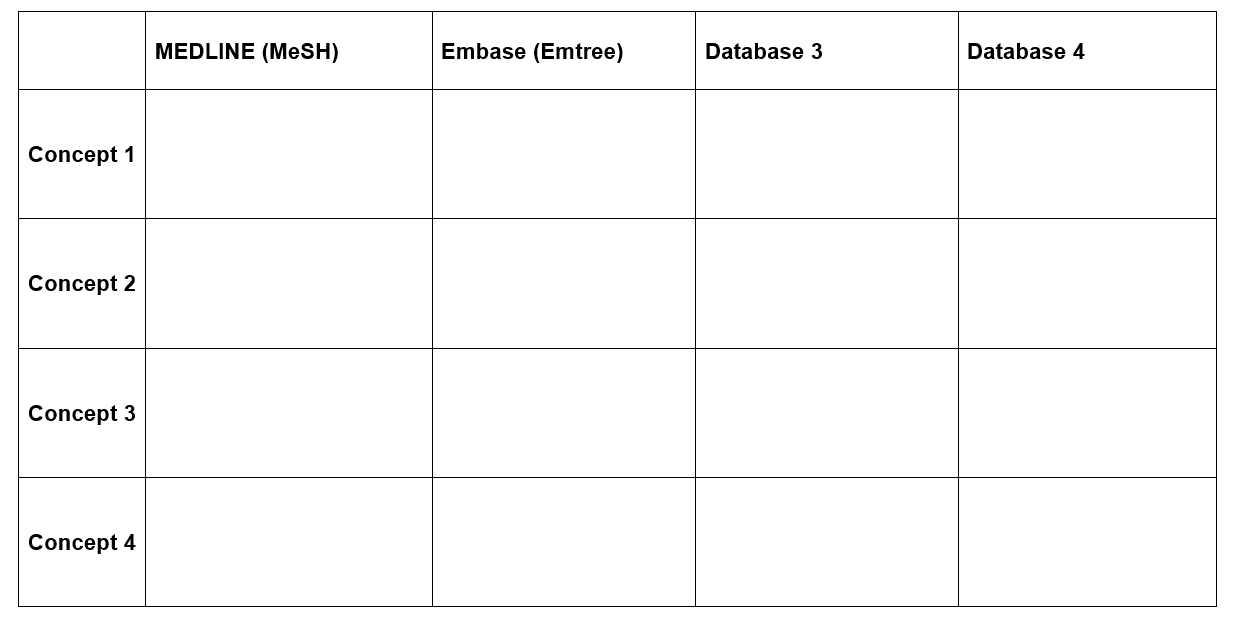 Major Headings are not commonly used in a subject heading as relevant articles may have a different focus but still include your topic. Use Major Headings carefully. A Major Heading will appear as MM.
Explode can be very useful in situations where you have a broad topic such as "Physical activity" and need to include all Sports in your concept. In that case you can use MH "Sports+" the plus (+) denotes the term is exploded in Medline and Cinahl.
Subheadings are rarely used in a systematic search which is looking for every article on a topic, however you may find use for them occasionally. Only some databases use subheadings such as Medline, CINAHL and EMBASE.

For example "Patient History Taking" in CINAHL Headings can be further narrowed by subheadings such as "Education/ED", "Psychosocial factors/PF"
The term would then look like this (MH "Patient History Taking/ED/PF")
We have a video demonstrating Searching using the search history and subheadings in EBSCO on the Run - Refine page.